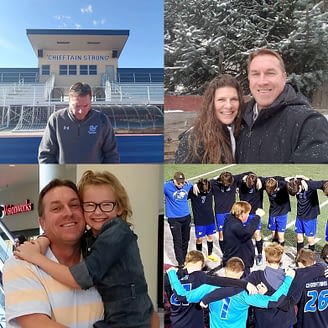 What is this secret sauce?
Welcome to The Secret Sauce with Kip Shubert. I am a 54 yr old father of four beautiful children, living on purpose with my beautiful wife, Cindy. 30 of my years have been in the profession of education. I love college and pro football, even though I coach soccer. The mountains are where I feel at home and I love 80's hairbands. Can sing a mean karaoke too. 
I was an elite level collegiate athlete who became an award-winning educator and coach while secretly battling alcoholism. Throughout most of my life, I wondered if I even mattered, did anyone even really care. I never felt worthy or good enough. I spiraled into an addiction that I never dreamed could affect me. Homeless and clinging to what little I had left of my life, I hit what they call rock bottom.
Through my struggles, I have found the secret sauce to my why. The process of recovery and healing from alcoholism helped me to overcome the fear of never being good enough and the hopelessness I felt from always wondering if I even mattered. Through my faith and my experiences in life, I have finally been able to reconnect with my passion and purpose of helping kids to believe and discover that they are the greatest miracle in the world.. You can read more about my struggle with addiction here by clicking on Kip's Story.
My "WHY"
Sharing my story while speaking purpose into students, schools, teams, and organizations.
Working with teachers and coaches to create a thriving culture in their classrooms, locker rooms, and schools. 
Presenting courses and workshops that provide a step by step process in building authentic heart to heart relationships. 
My life changed because someone took the time to see me for who I was and what I could be. That one authentic relationship changed my life. I now invest my heart, soul, and hope into doing the very same thing for others. Going all in with the relationships we have at home and in our workplaces brings us all together. As a teacher and coach, it unlocks the big dreams and greatness within our students and schools. Together, by sharing our own unique blend of the secret sauce, we can lead and love kids to become the next generation of game changers in our world.