I met Steve while on vacation this past summer in Colorado. Or as Steve calls it, heaven. He invited me and my wife over for a meal and also took us on a amazing hike near Pikes Peak called the Crags. I am honored to feature Steve and grateful that I can consider him a friend. He lives heart to heart and is a true warrior for his family, young people, and everyone in education he touches. And all because of one thing, Love!
Steve Woolf
Husband, Daddy, Educator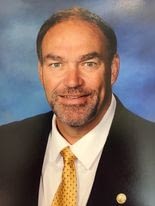 Steve's Bio:
Steve Woolf and his wife have three sons, two daughters, two grandkids, a dog, and 1 cat. The cat can be easily delivered to anyone's house if they would like. In addition to being a middle school principal and superintendent for the past 30 years, Steve is sought after to speak across the nation on issues dealing with leadership, student connection and motivation, school culture and climate, and preparing our schools to ready our students to pursue their passion.
In his third year as a principal, Steve was named the Kansas Middle School Principal of the Year. He has been the recipient of the $25,000 Milken National Educator Award, and was inducted into a few different educator Hall of Fames. Steve most recently served as the superintendent at Woodland Park, CO – or as Steve calls it "Heaven." Steve has devoted his time now on developing WILD Heart Teacher which focuses on building up teachers hearts, minds, and body to continue to make huge differences in the lives of kids.
In 2016, Steve founded a new state student organization – WILD. These are school clubs designed to get kids outside and engaged in the outdoors for all grade levels. WILD has taken off across Kansas with clubs in elementary, middle, and high schools across the state. It has started in Woodland Park in a major way in Colorado.
Steve Woolf is the author of the book "Heart 2 Heart Teaching: Building An Enduring Legacy In The Lives of Our Kids." Educators across the nation are using this book as a support to the power of relationship on learning and life.
In addition to time spent with his family, school, and speaking, Steve has been involved with "Mountain Man" reenactments, competed in the Scottish Heavy Throwing Events, and has been involved in building community gardens. Steve has also acted in several "Focus On The Family" film bits, commercials, and has even acted in film. Steve serves on many committees locally and nationally.
Oh… and Steve also tied for first place at his 1st grade field day competition in the 30-yard dash. Honest… he has the ribbon and everything.
Steve's WHY:
"Why" is always a really interesting question and can get quite deep. There are obvious answers that may seem to answer "Why" but not really.
Why become a superintendent? A. "I have the degree to do so" or "I like the pay" or "The office is cool and there are no bells" or "I'm a sadomasochist"
All of those can answer a "Why" question but not THE "Why" question of what drives you to do what you do.
Right now I am focusing on starting an organization called "WILD Heart Teachers." It is an off shoot of a book I wrote – "Heart 2 Heart Teaching" – and school clubs focused on engaging kids with their environment called "WILD." Why? The short little answer is because I see teachers getting beat up and beat down in this crazy political, pandemic environment. It is getting to be too much! We wanted to give them a tremendous boost and recovery opportunity while creating tribes of educators that will lift each other up.
OK… that is a nice why, but really….why? When I get down to the baseline of what drives me, what makes me tick, and what is my reason for living – it is LOVE. I LOVE people…all kinds of people. I realize educators have a tremendous impact on our world and I LOVE them for that and I LOVE them – period! Truthfully, LOVE is my why for just about everything I do, whether it be being a husband, daddy, grand daddy, friend, community member, educator, etc… LOVE is it. LOVE conquers all and it is my WHY for living this life.
Steve's Links:
Website : Heart 2 Heart Teacher
Book : Heart 2 Heart Teaching
Email : [email protected]
Facebook : https://www.facebook.com/stevewoolfsr
YouTube : WILD Heart Teacher